A stylish work bag is a must-have for any professional. They are not only convenient to carry your essentials, but they also reflect your style and professionalism. However, it cannot be easy to find one that has the perfect combination of features you need. For example, the bag may have the right amount of pockets inside and outside but no shoulder strap or cross-body strap. 
Or it might have both belts, but they're too short or too long.  That's where making your own comes in. No matter what design type you like a clutch purse, messenger bag with flap closure, backpack with padded back, and adjustable straps, you can make yourself an entirely custom piece that will suit all of your needs at work or in school.
What is the best way to keep your laptop safe while traveling?
How do you keep your laptop safe while traveling? This is a question that many people ask themselves before they take their next trip. Some people will wrap their laptops in bubble wrap, but if it's raining outside, the water may cause damage to the device. 
Other travelers might opt for buying a padded sleeve or carrying bag with them to ensure the safety of their instruments during travel. One option that may not have been considered is using an anti-theft backpack as your companion on all your trips. 
These backpacks are designed with features such as slash-proof and lockable zippers and compartments for extra security. You can also find these best bags from kaizer leather that help keep your belongings secure.
Tips on how to stay organized with a stylish work bag
To find the right work bag, you need to consider your daily needs. The type of work you do and where you'll be carrying your bag will help determine which style is best for you. If you're a professional who often finds yourself in meetings or at clients' offices, then a stylish work bag briefcase might suit your needs. 
A messenger stylish work bag is perfect for storing all of your essential items while keeping them safe from spills and scratches for those who carry their laptops everywhere they go. With so many options available today, there's no reason not to find one that fits with both your style and practicality.
Working in a fast-paced environment can be challenging. You have to keep up with your workload, stay on top of deadlines, and get things done efficiently. Running late for an afternoon meeting because you couldn't find what you needed in your work bag is frustrating. We're here to help.
This blog will provide tips on staying organized with a stylish work bag so you can focus on being productive at the office instead of worrying about where everything is.  Do you want more tips? Here are some great ideas for staying organized: 
Set aside time each morning or evening to clean out your bag and put it back together again.

Keep essential items close by when working at your desk. 

Use small containers like makeup bags.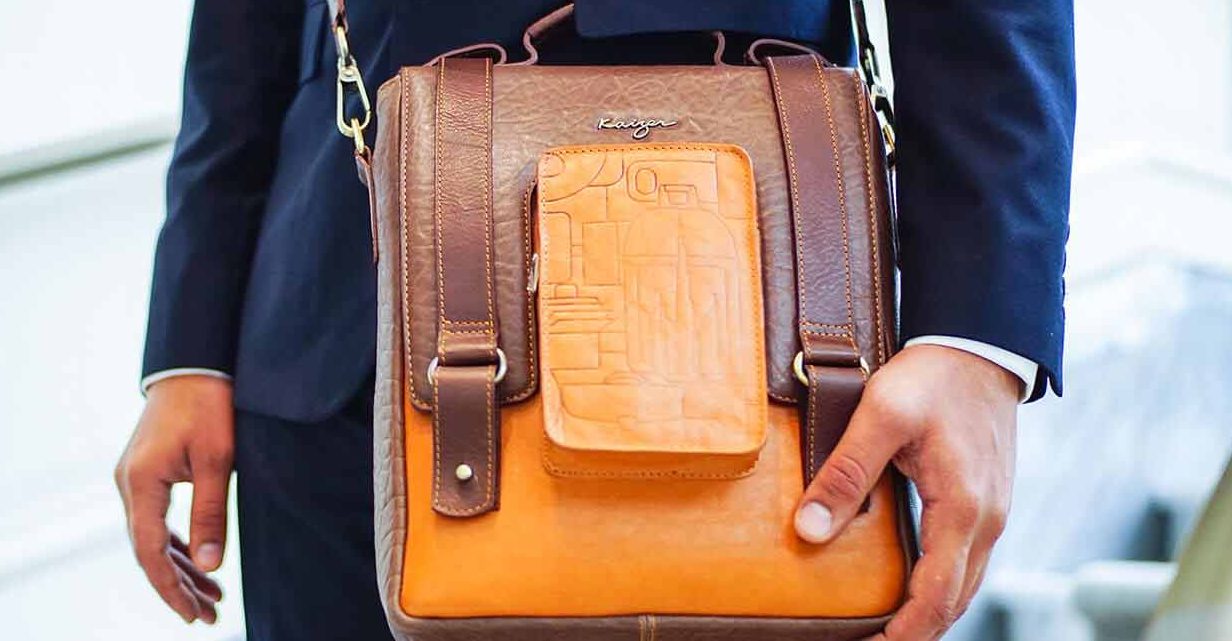 FAQ
Most Frequently Asked Question
Why are crossbody bags so popular?
Crossbody bags are popular because they're practical. They can be used for any occasion, whether you need to run errands or go out on a night out with friends.
There's no reason not to have one of these versatile bags in your wardrobe. A crossbody bag is also a stylish work bag and unique. They give off an air of confidence that many other types of purses don't.
How should a crossbody bag fit?
Crossbody bags will put some pep in your step by allowing you to sling something fun over your shoulder! That way, if anyone asks what kind of purse I'm carrying, I say it's a crossbody bag.
The size of your bag is also essential to consider. How big should my crossbody bag be? It depends on what you need it for and how much space you have available in your wardrobe. If you're someone who likes to carry around lots of stuff with them throughout the day but doesn't want their pockets bulging out, then this style might not be a stylish work bag for you! On the other hand, if all that matters is fashion over function, then an oversized purse will be just fine. You'll find yourself adding more items as time goes by anyway.
How do you know a bag is genuine leather?
Size isn't the only factor that matters when it comes to crossbody bags. You'll also want to think about what type of strap your bag will have and how long it is. 
A shorter strap may be more versatile but might not work well with coats or scarves, which are often worn over shoulders during colder months. On the other hand, a longer one can make everything more accessible since they don't tend to fall off as much. Not everyone's shoulder is created equal, after all.