Complete Your Style With These Kaizer Wallets
Wallets provide a secure and convenient way to store and manage personal items such as cash, credit cards, and identification documents. There are many different types of men's wallets to choose from, including bifold wallets, trifold wallets, and money clips. The type of wallet you choose will depend on your personal style and needs. Some men prefer a traditional bifold wallet with multiple card slots and a coin pouch, while others prefer a slim, minimalist wallet with just a few card slots.
Regardless of the style, men's wallets are important because they allow you to keep your personal items organized and easily accessible. Having a wallet can also help you to be more prepared and organized in your daily life, as you will have a central place to store your important items. Let's look at men's wallet models that can serve as a statement piece and reflect your personal style and taste.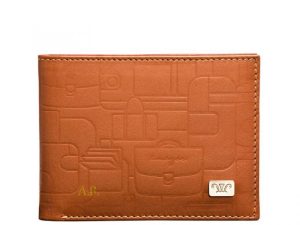 Wittet Croco Money Clip Wallet
This money clip men's wallet is a good option for those who want a slim and compact way to carry their cash and cards. It can be a more comfortable and convenient alternative to traditional bifold or trifold wallets, which can be bulky and awkward to carry in a pocket.
Money clip wallets can hold all of the same items that a traditional wallet can, such as cash, credit cards, and identification cards, but they do so in a much smaller and more streamlined package. They can also be more secure, as they are less likely to be lost or stolen due to their small size. Additionally, money clip wallets can be a fashionable accessory, with many different styles and designs available to suit different tastes and preferences.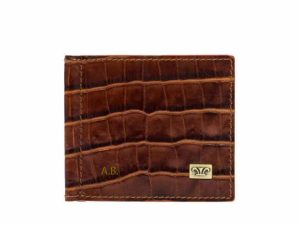 Insignia Leather Wallet With Coin Purse
This leather wallet with a coin purse is a type of wallet that has a small compartment specifically designed for holding coins. This can be a convenient feature for those who regularly carry coins and want a dedicated place to store them. A coin purse can be especially useful for organizing small items such as loose change, keys, or other small personal items. This wallet with a coin purse can be a stylish and practical choice for those who want to carry all of their essentials in one place. It is made of high-quality leather and is built to last, making them a durable and long-lasting choice for everyday use.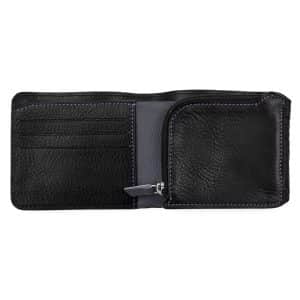 Adroit Wallet Small
The Adroit wallet is one of the most stylish accessories for men with its distinctive dimensions (most standard-size wallets are slightly larger) and smart combination of colors and textures of leather. It will take up less space in your pocket, bag, or purse, making them more convenient to carry around. With fewer compartments and less clutter, it can be easier to locate specific items in this small wallet. Last but not least, the Adroit wallet is more fashionable and trendy than larger, bulkier wallets.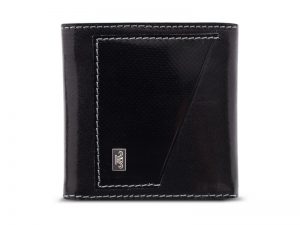 Duncan Wallet
Duncan Wallet is for lovers of classic wallets. It has a smooth finish and a classic design. It is a wallet that exudes a feeling of comfort and of being home. Despite its compact design, it will surprise you with the space it offers. Duncan Wallet is timeless and never goes out of style. It is made of high-quality materials leather and is built to last, making it a durable choice for everyday use. Duncan Wallet's design features a simple, understated aesthetic that can be suitable for a variety of occasions and personal styles. It also has a functional design, with multiple compartments for organizing cash, cards, and other personal items. Overall, this classic Duncan wallet is a good choice for those who want a timeless, practical, and durable way to carry their essentials.
You can buy stylish and high-quality wallets in our Dubai store or online from our website at www.kaizerleather.com