Charismatic Business Bags for Solemn Look
Business bags are important for a formal look because they are designed to be professional, sleek and sophisticated. They are often made from high-quality materials such as leather, and they have a classic, timeless design that is well-suited to formal occasions and work environments.  Mens business bags give off a professional appearance and help to create a polished and put-together look.
And they are designed to hold all the essentials needed for a workday such as laptops, documents, and other important items, so it's easy to carry everything you need in one bag. Business bags can be used for a variety of occasions, from work-related meetings and presentations to traveling for business. They make it easy to organize and access the items you need.
Find Out The Best Business Bag Models at Kaizer
Kaizer brings together the best models that are both practical and high quality for everyone to benefit from. Leather business bags can be considered an investment since leather is the most durable material for a bag. Here are a few options for the top quality models, if you want to explore more about them you can always come to visit our Dubai store or our website.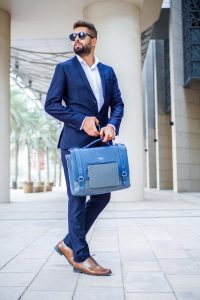 Magnate Business Bag
The style of the Magnate Business Bag is a classic one. It is a timeless piece that will accompany you for a long time thanks to its full grain Italian calf leather. This material is the highest quality leather in the world. This business bag has a single gusset, an additional front pocket for A5 documents, and an A4 document pocket at the back. It has a storage kit with provision for cell phones and 2 writing instruments and a zipper pocket. Your items are safely stored in this bag thanks to its tucktite lock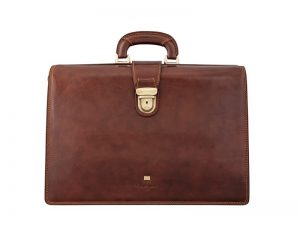 Statesman Doctor Bag
This is a good old doctor style bag that maintains its old charm. It is a pure handcrafted piece that will enchant any men who own it. Its features are a single gusset, leather-encased frame and a spacious interior. It has a storage kit with provision for cell phone, writing instruments. The receipt pocket and zipper pocket will let you easily fit any essential items you need to put in a bag.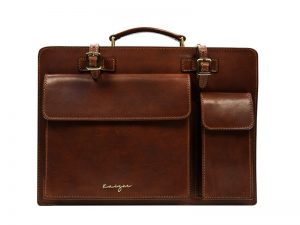 Suburban Business Bag
This bag is not only functional as a business bag but you can also use it as a business travel bag. Its durability is meant for rough use. It has a highly detailed design with various pockets and gussets that ensures maximum functionality. The patina leather material that is used for its craft has a special feature that creates its own characteristic qualities over time. This bag will accompany you for a long time and also for every travel you need to do for business.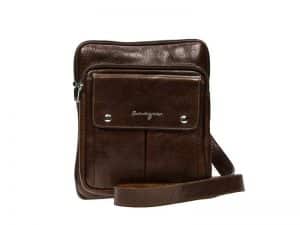 Sage Leather Messenger Bag (Big)
This durable and high quality business bag is suitable for any rough use. The interior features are like this: Single Gusset with 2 large inside compartments divided by a zippered pocket divider, storage kit with provision for cell phone, 5 writing instruments, 1 medium document pocket, 4 small document pockets & 1 zipper pocket. The magnetic snap closure is everything you need for safe storage. You can trust this business bag as an investment because it will last long as your company.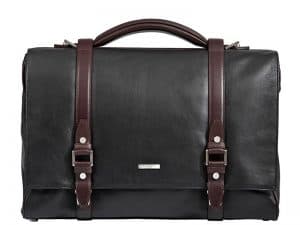 Kaizer provides the top notch quality leather goods from belts to bags. There is no limit to luxury, our leather products will give the best feeling of owning a high quality leather good. Our products are also ideal for investment purposes. You can find many options at our Dubai store or at www.kaizerleather.com