Don't Leave Home Without These: Must-Have Travel Essentials for Your Next Vacation
Traveling is an exciting and thrilling experience, but failing to bring crucial essentials can rapidly turn your dream vacation into a nightmare. Whether you're flying to a tropical paradise, exploring a bustling city, or immersing yourself in nature's beauties, being well-prepared is essential for a stress-free and pleasurable trip.
We'll provide a list of must-have travel items that will ensure you're prepared for whatever adventure awaits you. So, grab your bag and let's get started on the must-pack items for your next trip!
Travel Documents To Start The Trip With Ease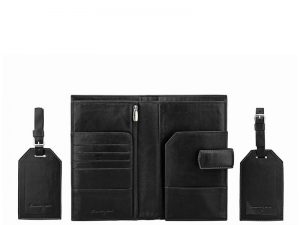 First and foremost, never leave the house without your travel documentation. These include your passport, identification cards, visas, travel insurance information, and digital copies of crucial documents. Check their legitimacy and store them in a travel document organizer or a separate pocket in your bag.
Organizing Your Travel Essentials in Style:
Having your vital paperwork organized and easily accessible when traveling is a game changer. Say goodbye to frantically searching through your suitcase for your passport or straining to spot your luggage among a sea of similar bags with Kaizer's trio of wallet, passport sleeve and luggage tag will save your life during distant trips!
This trio consists of The Rhetoric Mens Wallet is a true embodiment of elegance and functionality. Crafted from full-grain saffiano textured Italian calf leather, it exudes luxury and durability. The gold-plated metal signature adds a touch of sophistication, making it a fashion-forward accessory. With its single fold and magnetic snap closure, your bills, coins, and 16 credit cards will be securely held in place.
The Zenith Passport Sleeve is designed to protect and elevate your passport experience. Made from full-grain goat skin, it boasts a premium look and feel. And last but not least, the Duncan Luggage Tags provide both functionality and style. These tags, which feature a metallic buckle and a PVC window for an identity tag, are built to resist the demands of travel while keeping your bags easily identifiable.
Reliable Luggage That Can Withstand Any Adventure
You're standing at the airport, ready to embark on your dream vacation. You're filled with excitement and anticipation, but suddenly, your flimsy luggage starts to show signs of wear and tear. Zippers get stuck, wheels wobble, and you find yourself struggling to navigate through crowded terminals. Don't let this be your travel nightmare!
Invest in reliable luggage that can withstand the challenges of traveling and ensure a smooth and stress-free journey. Choose a size that is appropriate for your needs and features such as robust wheels, TSA-approved locks, and expandable pockets. A well-designed piece of baggage will make your travels more convenient and stress-free.
Enhance Your Journey With Travel-Smart Accessories
Whether you're embarking on a long-haul flight, exploring new cities, or venturing into the great outdoors, having the right travel-smart accessories can ensure comfort, convenience, and peace of mind throughout your journey. Certain items can improve your trip experience. A neck pillow for comfortable flights, a lightweight and small travel towel, a reusable water bottle to stay hydrated, a travel-sized umbrella, a money belt to safeguard your valuables, and a compact daypack for day trips and excursions are some ideas.
Travel Adapters and Chargers For Your Global Adventures
Different countries often have varying electrical outlet configurations, making it challenging to charge our devices without the right adapters. To ensure you can charge all your devices efficiently, it's important to bring along the appropriate chargers.
Nowadays, many devices, such as smartphones and tablets, come with USB charging cables. Invest in a universal charger that has multiple USB ports, allowing you to charge multiple devices simultaneously.
For those times when you're on the go and can't find an available power outlet, a portable power bank is a game-changer.
A happy traveler is a well-prepared traveler, and by making sure you have these must-have travel basics, you're setting yourself up for a stress-free and delightful vacation. And don't forget to entertain yourself along the way!