Combining Fashion and Function for the Urban Professional
Dressing professionally not only promotes confidence but also makes a good impression in professional settings. However, in order to keep up with the demands of an active life that comes with being an urban professional, it is equally necessary to prioritize functionality.
Essential Accessories for the Urban Professional
Briefcases: Timeless Elegance and Practicality For The Modern Professional
Briefcases have traditionally been associated with professionalism and timelessness. They are intended to transport your vital documents, laptop, and other necessities in an orderly and secure manner. Look for a briefcase that complements your taste and demands, whether it's a traditional leather design or a modern twist with clean lines and various compartments.
A well-chosen briefcase brings professionalism and ensures that you make a strong statement no matter where your business takes you.
Messenger Bags: Versatile and Stylish Options For Carrying Your Laptop and Essentials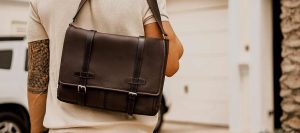 Messenger bags are the ideal blend of design and usefulness for urban professionals. These multi-purpose bags are meant to transport computers, documents, and other necessities while keeping you organized on the road. For easy organizing, look for messenger bags with padded laptop compartments, adjustable straps, and various pockets.
Leather Laptop Bags for Men: The Epitome of Style and Sophistication in Laptop Protection
Nothing beats leather laptop bags for men for protecting your laptop in style. These bags are the epitome of refinement, combining superb craftsmanship with timeless design. Look for leather laptop bags for men with padded compartments, adjustable straps, and extra pockets to keep your essentials organized.
A leather bag's rich texture and polished appearance not only elevates your aesthetic but also ensures that your laptop is well-protected in travel. Select a design that matches your personal aesthetic while yet exuding professionalism.
Footwear for Style and Comfort
Finding The Right Balance: Stylish Footwear That Doesn't Compromise Comfort
In the pursuit of fashionable footwear, it is critical to consider comfort without losing elegance. Look for shoes that strike a balance between form and function.
To ensure all-day comfort, look for features like cushioned insoles, arch support, and breathable fabrics. Remember that comfort is important in maintaining your productivity and confidence throughout the day, so look for shoes that are both comfortable and elegant.
Versatile Shoe Options For Urban Professionals:
Loafers: Loafers are a traditional footwear option that combines comfort and style. Choose leather or suede in neutral colors like brown, black, or navy. Loafers are an urban professional's go-to shoe for both formal and smart-casual outfits.
Oxfords are classic, classy shoes that radiate professionalism. Oxfords are suitable for formal occasions and business settings due to its closed lacing mechanism and streamlined shape. For optimal versatility, look for high-quality leather alternatives in black or brown.
Brogues: Brogues provide individuality and personality to your footwear assortment. Brogueing, or decorative perforations, provide visual intrigue and a touch of elegance to these shoes. To improve your professional style, use traditional brown or black brogues.
Time Management and Organization Tips for Urban Professionals
After giving all these useful tips for blending fashion and functionality for the urban professionals, we can't end it without giving some tips for achieving a better work-life balance. Being a professional is hard but balancing your personal life and the busy work days is also vital for every human!
Prioritize and plan: Begin each day with an outline of the most important activities to complete. Rank them in order of importance and attack them first, while your energy levels are at their peak.
Time Blocking: Set up specified time blocks for various projects or types of work. This allows you to focus on one activity at a time and prevent multitasking, which improves both productivity and work quality.
Reduce Distractions: By reducing distractions, you may create a more conducive work atmosphere. To retain attention, turn off extraneous notifications, utilize internet blockers, or work in a designated quiet location.
Balancing Work and Personal Life: Establishing Boundaries and Maintaining a Healthy Work-Life Balance
Establish Clear Boundaries: Set specific work hours and convey them to coworkers and clients. Unless absolutely required, avoid responding to work-related texts outside of these hours.
Take Regular pauses: Plan brief pauses throughout the day to replenish your batteries and avoid burnout. Step away from your desk, stretch, or do something to help you relax and refocus.
Make Self-Care a Priority: Schedule time for self-care activities such as exercise, hobbies, and spending time with loved ones. Taking care of your physical and mental health is critical for long-term productivity and satisfaction.