Elevating Your Weekend Vibes: Creating a Seamless Transition from Work to Leisure
Nothing beats the excitement of the weekend vibes after an exhausting and busy workweek.
However, switching from work mentality to weekend mode may be difficult, especially when it comes to your attire. Finding the proper mix between professional and casual comfort is essential for a smooth transition from work to pleasure.
Getting into the weekend mood might become easier with a functional wardrobe that makes the transition from work to leisure more seamless. Let's explore some of our tips.
From Desk to Dinner: Transitional Outfits for Friday Night Fun
Friday evenings hold a particular place in our hearts since they mark the start of the weekend and provide an opportunity to rest and enjoy some well-deserved leisure time. However, with only a few hours between the end of the workday and your dinner plans, it might be difficult to locate the perfect attire that transitions from desk to dinner.
Smart Casual Blazers: A well-fitted blazer is a flexible piece that can take you from work to a dinner date with ease. Choose a sophisticated casual blazer in a neutral hue such as navy, gray, or tan. For a refined and stylish look during the day, pair it with tailored pants or dark-wash denim. Simply change your shirt for a more comfortable alternative, such as a fresh white T-shirt or a patterned button-down, while going out to dinner. Roll up your blazer sleeves and add some elegant accessories for a more comfortable and contemporary evening look.
Button-Down Shirts with Chinos: Pair a button-down shirt with chinos for a traditional and timeless appearance that can effortlessly transition from work to dinner. For a more sophisticated look, go with a button-down shirt in a solid color or a mild pattern and a slim or tailored fit. Combine it with chinos in a contrasting color, such as navy or khaki. Wear dress shoes or loafers with your clothing during the day for a more official look. Switch to clean white sneakers or suede loafers for a more casual and attractive look in the evening.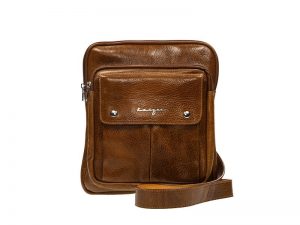 The Compact Crossbody Bag: Men's crossbody bags are an ideal choice for men who prefer a compact option. Look for a bag with a clean design that compliments your attire, such as a leather. The City Messenger bag at Kaizer, for example, features full-grain textured Italian calf leather, a woven polyester lining, and nickel-plated Italian metal hardware. The debossed signature on the side adds a subtle touch of luxury.
Weekending in Style: Accessorizing for a Chic and Relaxed Look
Whether you're going out to brunch with friends, seeing the city, or simply relaxing, accessorizing is essential for enhancing your weekend vibes and creating a seamless transition from work to leisure.
Statement Sunglasses: A pair of statement sunglasses is one of the most important accessories for a great weekend outfit. They not only shield your eyes from the sun's rays, but they also provide a personal touch to your attire.
While your workweek might require a more traditional watch, the weekend calls for a more casual and easygoing watch. Look for a watch with a leather or fabric strap to give a casual touch to your outfit. Depending on your specific taste, consider alternatives with simple displays or sporty chronograph functions.
Versatile Bag: A multipurpose bag is a must-have accessory for weekend outings. Depending on your demands and personal taste, choose a fashionable backpack, a roomy tote, or sleek cross body bags for men. Choose a bag in a neutral hue, such as black, navy, or tan, to compliment a variety of outfits.
Comfortable Footwear: Because weekends are all about relaxation, choose footwear that combines style with ease of wear. Choose sneakers with a clean, simple design that can easily transition from casual outings to more relaxed dinner engagements.