Embrace Summer With Vibrant Colours
As summer casts its warm embrace upon us, nature awakens in a splendid display of vibrant colors. From the mesmerizing hues of blooming flowers to the lush green landscapes and the lively presence of colorful wildlife, the season offers us a palette of inspiration.
Nature's Palette in Your Garden
From the vibrant reds of roses to the delicate pastels of lilies, nature's palette offers an endless array of inspiration. Consider planting a flower garden, either in your backyard or even a small balcony. Engaging in gardening not only allows you to witness the beauty of nature up close but also gives you the opportunity to create your own vibrant oasis.
Summer's arrival blankets the world with a lush carpet of green. Nature's vibrant foliage brings a sense of tranquility and vitality to our surroundings. Spend time in nature, whether it's exploring local parks, hiking trails, or even enjoying a picnic in a nearby meadow. Surrounding yourself with the vibrant green landscapes will invigorate your senses and rejuvenate your spirit.
Nature's Palette in Interior Design
Bring the vibrant colors of summer indoors by incorporating nature's palette into your home decor. Consider adding accents such as throw pillows, curtains, or rugs in shades inspired by blooming flowers or lush greenery. Display nature-themed artwork or incorporate natural materials like wooden furniture or leafy houseplants. Infusing your living space with these natural hues will create a soothing and uplifting ambiance that mirrors the beauty of the outdoors.
How to Incorporate Summer's Colours to Your Wardrobe
Let's explore exciting ways to incorporate summer's colors into your wardrobe, allowing you to radiate joy and style wherever you go. Get ready to embrace the rainbow and make a fashion statement that captures the essence of the sun-soaked season.
Embrace Bold and Playful Prints:
Summer is the perfect time to experiment with eye-catching prints that reflect the spirit of the season. Opt for vibrant floral patterns that mirror the blooming flowers around you or choose tropical motifs that transport you to exotic destinations. Whether it's a flowy maxi dress, a fun jumpsuit, or a statement blouse, embrace the world of prints and let your wardrobe become a canvas for summer's colors to shine.
The Timeless White Ensemble:
Nothing captures the essence of summer quite like a crisp white ensemble. Embrace the classic elegance of white and create chic and sophisticated looks. Opt for a white linen dress, a breezy white blouse paired with denim shorts, or a tailored white jumpsuit. Not only does white provide a clean and fresh look, but it also serves as an ideal canvas to showcase colorful accessories and statement pieces like leather handbags in vibrant colors.
Have Fun with Accessories:
Accessories are the perfect way to incorporate summer's colors into your wardrobe. Experiment with statement earrings, playful sunglasses, colorful scarves, or vibrant headbands. These small yet impactful additions can instantly elevate your outfit and add a touch of fun and personality.
Go Bright and Bold:
Embrace the spirit of summer by choosing women's leather wallets and bags in bright and bold hues. Opt for a vibrant yellow or an electric blue wallet to add a splash of color to your ensemble. For a bolder statement, consider a hot pink or a fiery red handbag that will instantly elevate any outfit. These eye-catching accessories will draw attention and exude confidence and flair.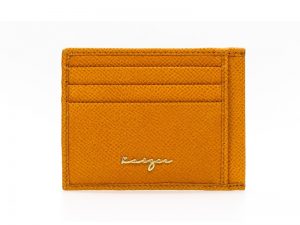 Rhetoric Cardholder from Kaizer is a perfect choice for minimalistic lovers who still want to incorporate summer's vibrant colors into their wardrobe. The Rhetoric Cardholder comes in four eye-catching colors: red, fuchsia, mustard, and black. These bold hues add a pop of energy and playfulness to your everyday style
Kaizer is known for its commitment to quality, and the Rhetoric Cardholder is no exception. It is meticulously crafted from genuine leather, ensuring durability and longevity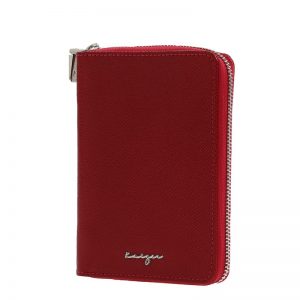 But if you are a fan of bigger wallets, we also have a solution for that! From the same collection, the Rhetoric wallet with zipper. While it's called a wallet, the optimally designed Rhetoric Wallet with Zipper can double as a stylish mini clutch. Its larger size and fully zippered closure make it a convenient accessory to carry on its own when you only need your essentials. Whether you're heading out for a casual outing or a special occasion, this wallet effortlessly adds a fashionable touch.
Just like the Rhetoric Cardholder, the Rhetoric Wallet with Zipper comes in four vibrant colors: red, fuchsia, mustard, and purple.