First Steps into the Professional Realm: Must-Have Wardrobe Items for Young Businessmen
Entering the professional world is a thrilling and life-changing experience. As a young businessman, it is critical that you project confidence, professionalism, and attention to detail. Your wardrobe is an important component of presenting a polished and professional image. Dressing properly for the workplace not only exhibits respect for the environment, but it also develops credibility with coworkers and clients.
The Significance of First Impressions in the Professional World
Whether you're attending a networking event, a job interview, or meeting a new customer, the first minutes of engagement can affect how others perceive you and set the tone for future connections.
Let's go on a journey of the must-have wardrobe items for those who are entering the world of professionals. We will help you to blend in seamlessly as a young businessman!
1.     The Power Suit: Building a Solid Foundation with a Well-Fitted Suit
There's nothing quite as powerful and essential as a well-fitted suit for reflecting your confidence, and professionalism.
The power suit is a visible expression of your professionalism and commitment to your job. It distinguishes you from the crowd and establishes you as someone who takes your role seriously. As a young businessman, the power suit symbolizes your dedication to achievement and your capacity to handle professional challenges.
The secret to a successful power suit is its tailoring. A suit that fits perfectly not only improves your appearance but also highlights your greatest characteristics. Prioritize fit when buying for a suit and consider having it fitted to your body shape.
2.     The Professional Touch: Adding Accessories
While a well-fitted suit is the foundation of your wardrobe, it is the accessories that add the finishing touches and bring your look to new heights of professionalism.
Ties: Elevating Your Ensemble
A classy tie selection is essential for any professional clothing. Ties let you exhibit your individual style while also adding a touch of elegance to your outfit. Choose traditional silk ties in flexible hues and patterns that compliment your suits, like stripes or solids.
Belts: Highlighting Your Waistline
Choose a high-quality leather belt in a versatile color that complements your shoes, such as black or brown. The belt's breadth should be proportionate to the loops on your pants. You may highlight your waistline and produce a tailored appearance by selecting a belt that fits nicely and suits your clothing.
Watches: Timeless Elegance
A classic watch is more than just a useful item; it is also a sign of style and sophistication. A high-quality watch provides a professional touch to your entire appearance, demonstrating your attention to detail. Choose a classic style with a leather or metal strap that suits your particular taste.
3.     Sophisticated and Versatile Options For Business Bags
A business bag not only enhances your professional clothing, but it also functions as a useful companion, keeping your essentials organized and accessible.
Modern Messenger Bag: Consider mens leather nessenger bags for a more modern appearance. With a big main compartment and additional pockets for organizing, this style combines usefulness and flair. For quick access, look for a bag with an adjustable strap and a flap closing.
The Urban Messenger Bag at Kaizer is an eye-catching option for young businessmen who want to make a fashion statement. This bag has become popular among people of all ages, particularly those involved in the arts and creative professions. Its one-of-a-kind element, a bright red edge, gives a lively and colorful twist to the basic messenger bag style.
Inside, you'll find a spacious interior with a dedicated laptop sleeve and two large pockets for organization. This bag offers the perfect combination of style, functionality, and practicality, catering to the needs of the modern young professional.
Stylish Backpack: If you prefer a more relaxed and hands-free option from a business bag for men, a leather backpack is a versatile choice. Look for a sleek design with padded compartments to protect your laptop and other devices. A backpack with multiple pockets and adjustable straps ensures comfort and practicality.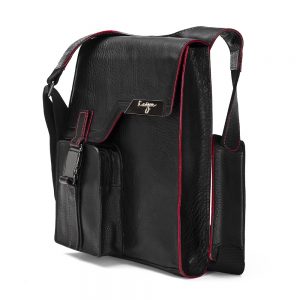 From the same collection, Urban Leather Backpack prioritizes your comfort throughout long days on the run with adjustable straps and a cushioned back panel. The Urban Leather Backpack combines design, functionality, and versatility with ease, making it a great choice for the modern young professional.