Minimalistic and Slim: Why Cardholders are Getting Popular?
A cardholder is a small wallet or case specifically designed for holding credit cards and identification cards. Cardholders typically have one or more slots for inserting cards, and may also have a small pocket for holding cash or other small items. They are a more streamlined and minimalistic alternative to traditional wallets and are often used as a secondary wallet or for special occasions when only a few cards are needed. They are typically smaller in size than traditional wallets and can easily fit in a pocket, purse, or bag. They are a convenient and lightweight way to carry the essentials while on the go.
There are several reasons why cardholders are getting popular:
Compact size: Cardholders are smaller and more streamlined than traditional wallets, making them more convenient to carry around. They can easily fit in a pocket, purse, or bag, and take up less space than larger wallets.
Lightweight: They are generally lighter in weight than traditional wallets, making them more comfortable to carry for long periods of time.
Minimalistic: They have a minimalistic design, with only a few card slots and possibly a small pocket for holding cash or other small items. This can be appealing to those who prefer a more simplified and uncluttered way of carrying their essentials.
Fashionable: Cardholders can be a fashionable accessory, with many different styles and designs available to suit different tastes and preferences.
More secure: They are less likely to be lost or stolen due to their small size and ability to be easily carried on your person.
Cost-effective: They may be less expensive than traditional wallets due to their smaller size and fewer materials used in their construction.
Explore Convenient and Lightweight Cardholders at Kaizer
You can find many convenient and efficient cardholders at Kaizer. It is a smart way to carry your essentials, as you only need to bring the cards and cash you need for the day or occasion. Kaizer's cardholders are a practical and convenient choice for those who want to carry their essentials in a minimalistic and streamlined way. Here are a few options that will serve as a both timeless piece and a function for easy storing of essentials.
Duncan Card Holder
There are many different types of cardholders available, and the best one for you will depend on your personal needs and preferences. Handcrafted in vachetta leather, the Duncan cardholder is a leather accessory that will surprise you with how much it can hold. Vachette leather is known for its soft, velvety texture and is great for especially wallets. It is also generally more durable and scratch-resistant than other types of leather.
Zenith Card Holder
The Zenith cardholder is a natural textured leather wallet. This type of leather has a rough, rugged appearance that is created by the natural grain patterns and imperfections of the hide. Natural textured leather is often used to make rustic or vintage-inspired products, as the textured finish gives the leather a unique, aged look. It is known for its durability and resistance to wear and tear, making it a long-lasting choice for a wallet.
Leather cardholders are a classic and stylish choice, and are often made of high-quality leather that is durable and long-lasting.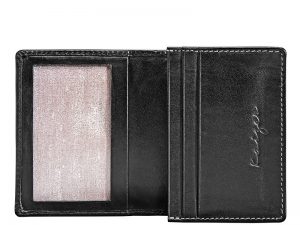 Infinity Business Cardholder
It is a compact cardholder with the slightest textured leather. Its distinctive white-on-brown stitching makes it a real stunner. Its subtle, textured finish has a slightly rough or grainy surface, which gives it a more natural and rustic appearance than smooth leather. It provides a function that is great for daily use and every occasion.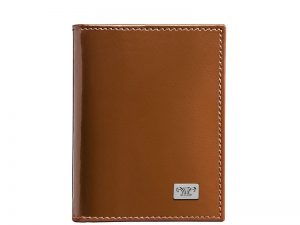 For a personal shopping experience, you can visit our Dubai store. If you are a fan of the comfort of e-stores, find us at http://kaizerleather.com/