Beach Bliss: Wave Goodbye to Unorganized Bags and Embrace Relaxation on Your Vacation!
Vacation is a time to unwind, soak up the sun, and let your worries drift away with the ocean breeze. Whether you're strolling down a sandy beach or lounging by the water's edge, the last thing you want is to fumble around with unorganized bags that disrupt your relaxation. It's time to say goodbye to the chaos and embrace a stress-free vacation experience.
Pack a Beach Bag with Compartments:
Investing in a beach bag with multiple compartments is a game-changer when it comes to organization. Separate your sunscreen, sunglasses, towel, and other beach essentials into different sections. This way, you can easily locate what you need without rummaging through a jumble of items. Plus, it adds a touch of style and functionality to your beach ensemble.
Utilize Zippered Pouches:
Zippered pouches are your secret weapon for keeping small items organized and secure. Use them to store your keys, phone, money, and other valuables that you want to keep sand-free and easily accessible. Simply toss them into your beach bag, and voila! No more frantic searching for your essentials while trying to catch the perfect wave.
What we suggest at Kaizer is the Cosset coin pürse with cardholder, the perfect little companion to your vacation for easily storing your coins and cards! A compact yet mighty companion that will revolutionize the way you carry your coins, bills, keys, and plastic cards.
Its dedicated coin compartment keeps your coins organized, easily accessible, and separate from your other belongings. No more digging through your bag and creating a mess just to find the right coins for that refreshing beachside drink.
Not only does the Cosset Coin Purse with Cardholder excel in practicality, but it also boasts a stylish design that complements any vacation ensemble. Crafted with meticulous attention to detail, this accessory showcases elegance and sophistication. It's the perfect blend of fashion and functionality, making it a must-have addition to your travel accessories.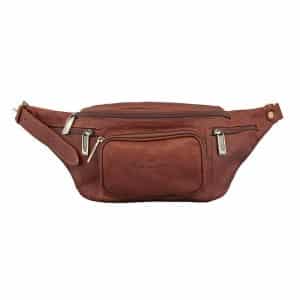 For men, we can suggest a simple pouch for men, a stylish and practical solution to keep your belongings organized and easily accessible throughout your trip. It's time to lighten your load and embrace the convenience and style of the Cavalry Belt Bag from Kaizer's collection.
With central and front zippered pockets, you can easily keep your phone, wallet, keys, and other small items within reach with this fun waist pouch from the Cavalry collection!
Pack Travel-Sized Toiletries:
Instead of lugging around full-sized toiletries, opt for travel-sized versions. These compact containers take up less space in your bag and are easier to organize. Plus, they comply with airport regulations if you're jetting off to a beach destination. So, squeeze out the stress of large bottles and embrace the convenience of travel-sized toiletries.
Travel Light, Travel Bright: Lighten Your Vacation with Less Bulk
Plan Ahead and Make a Checklist:
Start your journey towards lighter travel by planning ahead. Create a checklist of essentials, focusing on versatile items that can be mixed and matched. Consider the climate and activities at your destination and pack accordingly. By being intentional and organized, you can avoid the temptation to overpack and bring only what you truly need.
Pack Multi-Purpose Items:
Make the most of your limited space by packing multi-purpose items. For example, bring a sarong that can double as a beach cover-up, picnic blanket, or even a scarf. Consider packing a versatile pair of shoes that can be dressed up or down, eliminating the need for multiple pairs. Look for items that serve multiple functions and save space in your suitcase.
If you are looking for a practical leather ladies handbags online that has the potential of different storage parts, we can suggest our  Midas Tote bag. With the Midas Tote Bag, you'll have room for your wallet, keys, makeup, a tablet, and even a spare sweater for those unpredictable weather changes. It's the ultimate storage solution for the modern woman on the go.
The Midas Tote Bag holds a delightful surprise within its depths—a small vanity pouch. This clever addition provides a dedicated space for storing your knickknacks, such as hair ties, lip balm, or small accessories. No more rummaging around the bottom of your bag to find those elusive items.
Versatility is key when it comes to the Midas Tote Bag. It offers a detachable zippered utility feature that enhances its functionality even further. Use it as an additional storage compartment, a separate pouch for your personal items, or detach it entirely for a more streamlined look. The choice is yours, allowing you to customize the bag to suit your needs and preferences.
Traveling light doesn't mean sacrificing comfort or style. By adopting a minimalist mindset and packing strategically, you can enjoy a vacation with less bulk and more freedom.