Bag It Up: How to Pack With Different Bag Styles
The correct bag can make all the difference when it comes to preparing for your next journey. Every design, from the dependable tote to the powerful messenger bag, has special benefits that meet various purposes.
It's time to embrace the art of packing and maximize the potential of each bag. With our help, choose the right bag for the occasion and enjoy the convenience and efficiency it offers.
Let's look at the world of packing with different bag styles and share tips on how to make the most of each one.
The Trusty Tote: Your Versatile Companion : Different Bag Styles
Every traveler's collection should include a timeless tote bag. Its roomy design makes it ideal for day trips, beach vacations, or even as a carry-on bag because you can pack a lot in it. Here are some ideas to make the most of it:
Utilize the Main Compartment: Larger things such as clothing, shoes, and towels can be placed directly into the main compartment. Roll your clothing to conserve space and prevent wrinkles. To equally divide the weight, put heavy items at the bottom and lighter ones on top.
Leverage Inner Pockets: The majority of bags have inner pockets, so use them. Put accessories like chargers, sunglasses, or a wallet in these smaller storage spaces. It will be simpler to locate what you need without having to dig through the entire bag if these small products are kept arranged.
Don't Forget About Security:
While totes are convenient and spacious, they can be susceptible to theft. To ensure your belongings are safe, consider using a tote with a zipper. If you are in the search for a tote bag with a zipper, we have some suggestions at Kaizer.
Secure and Stylish: The Ascot Tote Bag Different Bag Styles
It's crucial not to overlook the importance of security, especially when carrying spacious and versatile tote leather bags for ladies.
This Ascot tote bag offers multiple carrying options to suit your preferences. It can be worn as a sling bag for a more casual look or carried on the arm for a formal appearance. The genuine leather strap allows you to switch between styles effortlessly.
With a full zipper closure, the Ascot tote bag provides superior security for your belongings. You can have peace of mind knowing that your essentials are safely tucked away, protected from any potential theft or accidental spills.

Style and Functionality: Absolute Tote : Different Bag Styles
The best full-grain Italian calf leather, known for its outstanding quality and longevity, is used to create the Absolute Tote. Your bag will be absolutely unique because of how wonderfully this vegetable-tanned leather matures and develops a distinctive patina over time.
To protect the bottom of your tote from wear and tear, the Absolute Tote is equipped with foot studs. These studs not only elevate the bag's design but also provide added stability when placing it on various surfaces.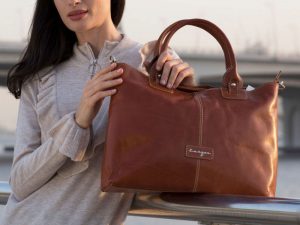 The Mighty Messenger Bag: Your Stylish Sidekick for On-the-Go Adventures
One of the distinguishing qualities of the powerful messenger bag is its crossbody style. You can comfortably wear it across your body thanks to the adjustable strap, freeing up your hands to explore new areas, take pictures, or just relax during the ride.
Organization is the key to efficient packing, and the mighty messenger bag has got you covered. Utilize the various pockets and compartments to keep your smaller items in order. Store your passports, pens, and travel-sized toiletries in dedicated pockets, ensuring easy retrieval and avoiding the frustration of digging through the bag.
Men crossbody bag models are one of the most preferable designs among men who are frequently on the go whether for business trips or new adventures.
Backpacks For Adventurous Souls : Different Bag Styles
The backpack effortlessly transitions from outdoor adventures to city explorations, making it a true diva of the bag world.
One of the greatest advantages of a backpack is its ability to keep your belongings organized. Look for a backpack with multiple compartments, allowing you to separate items based on their category or usage. This way, you can easily access your clothes, electronics, and snacks without having to rummage through a jumbled mess.
Comfort is key when it comes to backpacks, especially during long hikes or city explorations. Look for adjustable straps that can be customized to your desired fit. Ensure the weight is evenly distributed across your shoulders and back, reducing strain and promoting a comfortable carrying experience.