Kaizer got the scoop on the most versatile ladies handbags in Dubai that seamlessly transition from day to night. These stylish and functional accessories will have you covered from your busy workday to a fun evening out on the town. Say goodbye to handbag-switching and hello to convenience and fashion-forward versatility with ladies handbags online models at Kaizer!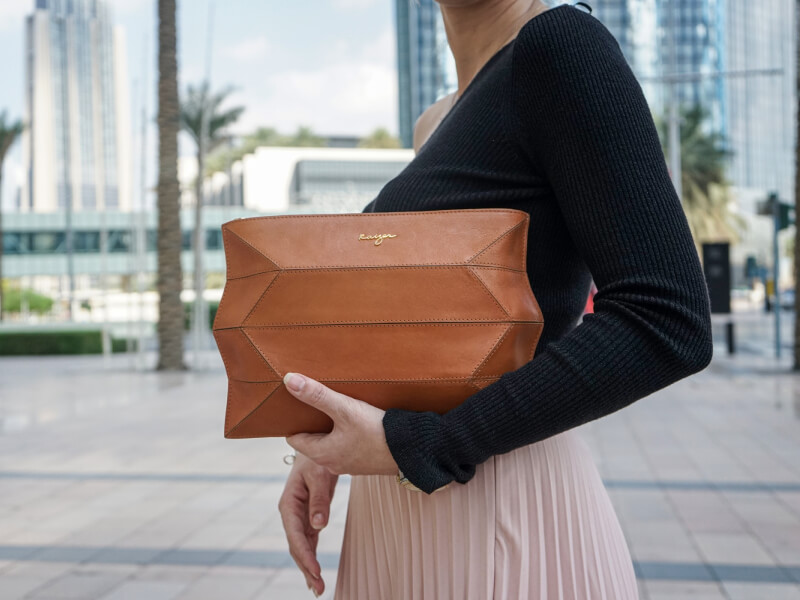 Ascot Clutch: The Ultimate Day-to-Night Transformation
The Ascot Clutch ladies handbags in Dubai is a versatile gem that combines functionality, style, and ethically sourced materials. This patina leather bag is not only trendy but also boasts a unique design that allows it to seamlessly accompany you throughout the day, transforming effortlessly into an elegant evening clutch.
The Ascot Clutch ladies handbags online model comes with a genuine leather strap that allows you to wear the bag sling-style during the day. This practical feature keeps your hands free and offers easy accessibility to your essentials. However, when the evening calls for a touch of glamour, simply remove the sling strap and attach the provided wrist strap. Your beloved day ladies handbags in Dubai can effortlessly transform into an exquisite evening clutch.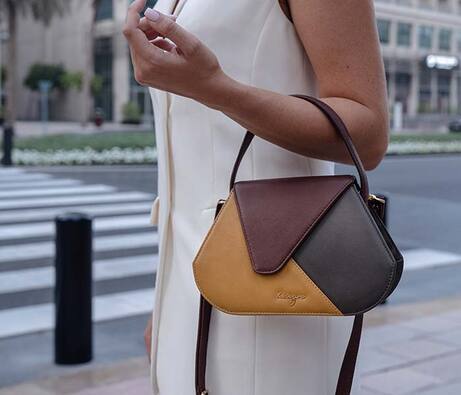 Shadows Clutch: Artistic Fusion of Colors
The Shadows Clutch is a visual masterpiece, utilizing three different colors to form a captivating pattern. This unique design contour ladies handbags in Dubai model creates an exquisite blend of hues that sets it apart from ordinary handbags. Prepare to be the center of attention with this one-of-a-kind accessory that complements your style while expressing your individuality.
The Shadows Clutch offers a multitude of carrying options to suit any occasion. The genuine leather strap allows you to wear the bag sling-style, providing a convenient hands-free experience during the day. But that's not all – two metallic straps are also provided, offering a touch of glamour and versatility. Remove either of these straps, and you can instantly transform the Shadows Clutch into a stylish clutch bag.
Allure Hexagonal Bag: Shape Up Your Style
If you're a shape enthusiast looking to add a touch of whimsy to your style with a ladies handbags online then the Allure Hexagonal Bag from the Allure collection is calling your name. With its playful design and vibrant color options, this bag is ready to accompany you on your style adventures, seamlessly transitioning from day to night.
As the sun rises, the Allure Hexagonal Ladie Handbag online model is ready to bring joy to your day. Its hexagonal shape stands out from the crowd, adding a playful twist to your outfit. Choose from the array of vibrant color options to express your personality and set the tone for a fun-filled day. Swing the handbag over your shoulder using the trendy metallic strap and let the compliments pour in as you exude confidence and style.
When lunchtime arrives, don't let your style fade. The Allure Hexagonal Bag keeps the fun going, transitioning seamlessly from your work attire to a casual lunch date. Pair it with your favorite jeans, a trendy blouse, and some statement accessories.
Explore Kaizer's Ladies Handbags Online Models and Shop Seamlessly!
Whether you are looking for a bag that will suit your chic office attire, your casual lunch date, or to suit your evening glamour, there is a ladies handbags in Dubai model at Kaizer that will make your transition from day to night so much easier! Let fashion accommodate to you while you enjoy your day and night plans.
Gone are the days of carrying multiple handbags to accommodate different parts of your day. With these versatile handbags that seamlessly transition from day to night, you can save time, effort, and closet space. Embrace convenience without sacrificing style by investing in these multi-functional accessories. From the tote bag to the crossbody wonder, there is an option at Kaizer for every fashion-forward individual!