"The greatest threat to our planet is the belief that someone else will save it." ~ Robert Swan
Three pillars of sustainability
1. Economy – Profit – Sustainability is not only profitable in an economic sense but also investing in a better future.
2. Ecology – Planet – Our planet responds to the way we treat it. As careful as we are with it, the more giving it will be to us.
3. Equity – People – It is the responsibility of each individual to show solidarity in this consciousness.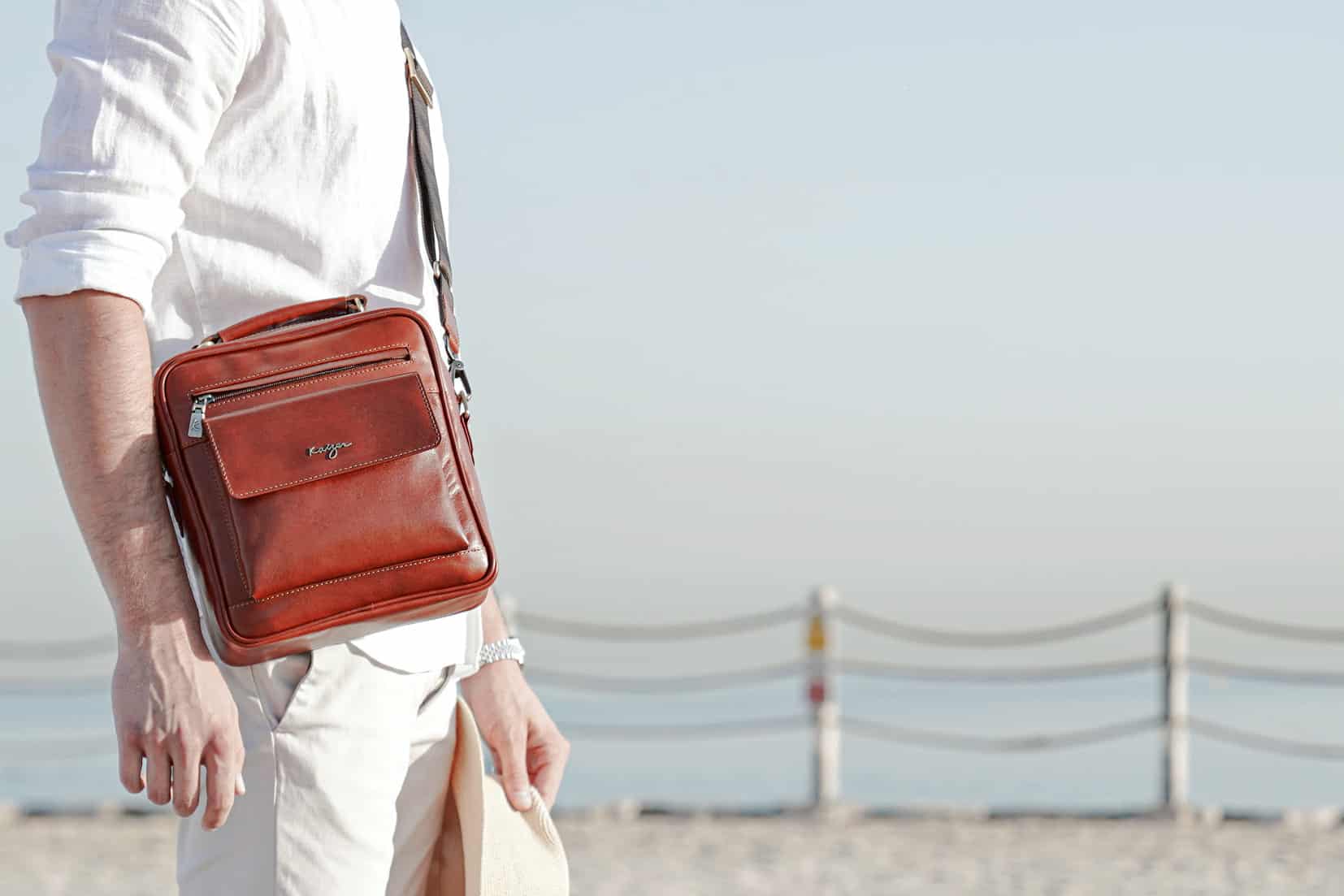 Kaizer is conscious of its environment and is glad to partner with tanneries in Italy to use sustainable leather for their handcrafted bags and accessories
Sustainability at its core, is a consciousness. An action we we take responsibly. While sustainability broadly rests in four areas – human, social, economic and environmental – we like to believe it starts at a personal level. At Kaizer, we not only use sustainable leather from our local partners in Italy who in turn hand-tan veg leather but also ensure that we use every piece of leather with utmost consciousness resulting in minimal wastage.
Leather: sustainable at its core. Inherently sustainable by it very nature.
While leather can be made notoriously savage it is but a by-product of the farming industry. In ancient time, too, instead of throwing away hides after hunting for food, hides have been used not only to make clothes but also to store water in many parts of the world.
It was much later when horses were domesticated on ranches and farms that the uses of leather increased multifold. It was now directly associated with everything equestrian – saddles, boots, hats and even aprons!
Another sport that widely uses leather is golf. The golf cap, very different from the cowboy hat, is also hugely popular. Add to that a sophisticated golf case.
Hence, leather is the only material that is finds itself associated with both, the tough on one end and the classy on the other, which we believe makes it ever so popular and so hard to ignore!
However, it was only much later when designers saw an opportunity in this line of clothing. Leather due to its very ruggedly handsome look and being a 'waste' product from another industry, proved to be a win-win. Leather started getting extensively used in making bags and accessories. The cowboy look was also further extended to make jackets, pants and skirts as trendy clothing.
Leather has always been the most sustainable material. It is now due to the heightened consciousness of taking care of our planet that it is in the spotlight. Furthermore, veg-tanned leather adds to its ecological nature – something a lot of us forget to acknowledge.
Sustainable efforts at Kaizer
At Kaizer, when we say sustainable, we mean it.
The leather that is used in our bags and accessories is not only sustainable but also veg-tanned.
Veg tanned leather is a process to treat the leather till that stage before it is handcrafted into a bag or accessory. The base for natural tanning of leather comes from natural elements like the bark of the Mimosa or Chestnut tree. Additionally, an ecological aniline is used in the process.