Discover The Joy of Giving This Ramadan With Mens Wallets From Kaizer
The holy month of Ramadan is here but you are never late to think about how you can give back to your loved ones from friends and family. And what better way to do so than with a stylish and thoughtful gift from Kaizer?
The month of Ramadan is a time of reflection, generosity, and giving. It is a great time to show our appreciation for the people who are important to us. If you are thinking of giving a quality gift to your father, brother, or husband that they will remember and cherish these times in the future, mens wallets are a great option.
This Ramadan, discover the joy of giving with Kaizer's mens wallets. These stylish and practical accessories are the perfect way to show your appreciation for the special man in your life whether he is your other half or your father, we are sure to make their day a little brighter.
Mens Wallet Models That Will Make Him Feel Truly Special and Appreciated
When it comes to showing appreciation and love, actions speak louder than words. And what better way to demonstrate your love and appreciation than by gifting the men in your life a high-quality men's wallet this Ramadan?
Men's wallets are more than just a practical accessory; they are a reflection of the individual's personal style and taste. And with a wide range of wallet styles, designs, and materials to choose from, you can find the perfect wallet to suit any personality. It's a small gesture that can make a big impact, showing them that you took the time to choose something special and personal.
It's a gift that will speak volumes, demonstrating your appreciation and love in a tangible and practical way. And because leather is such a versatile material, it can be dyed in a wide range of colors, from bold and bright to classic and understated.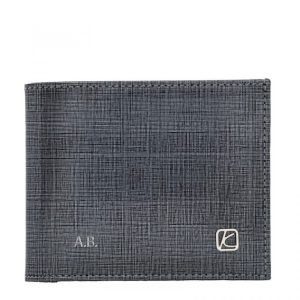 Tweet Wallet
Crafted from full-grain laminated cowhide, the Tweed Wallet exudes sophistication and style. Its metal crest and chrome-plated hardware add a touch of luxury, while the tone-on-tone stitching gives it a clean and classic look. And with a double billfold and eight card slots, it has all the functionality he needs to keep his essentials organized.
One of the things that sets the Tweed Wallet apart is its unique texture. The tweed fabric gives it a subtle, sophisticated look that's both modern and timeless. It's a wallet that he can use every day and still feel special and unique.
3 in 1: Notepad/Wallet/Cardholder
Crafted from premium materials, this wallet is not only practical but also elegant and sophisticated. The Note Pad features full-grain smooth calf leather, with embossed marquee and tone-on-tone stitching, giving it a subtle and refined look. The paper pad and pen holder make it the perfect companion for jotting down notes on the go, whether in a business meeting or on the street.
It also features the Zenith wallet made from full-grain goat skin, with a metal crest and chrome plating, signature Kaizer lining, and tone-on-tone stitching. The double billfold and six card slots make it the perfect choice for carrying all the essentials in one place.
And if that's not enough, the Zenith cardholder KC1633 also comes included, featuring the same premium materials and design as the Zenith wallet. With six card slots, it is the definition of why cardholders are the perfect accessory for carrying all the necessary cards without taking up too much space in your pocket.
Insignia Wallet
Sometimes simplicity is the key to making a statement. And the Insignia leather men's wallet is a prime example of this. It's a classic mens wallet that's been crafted with the utmost care and attention to detail, making it a timeless piece that any man would be proud to own.
The Insignia wallet features a pure leather construction that has been handcrafted to perfection. This not only ensures that the wallet is durable and long-lasting, but it also gives it a unique and individual character that can only come from handcrafted products. The quintessential Insignia emboss is the perfect finishing touch, adding a touch of class and sophistication to this already elegant wallet.
if you're looking for a classic and timeless mens wallet, look no further than Kaizer. From pure leather constructions to handcrafted details, and classic designs you can gift a must-have accessory for any stylish man in your life.
Check our Dubai store or www.kaizerleather.com to explore more about the options at Kaizer!