Why Leather is a Good Option for Messenger Bags
Leather is a good option for messenger bags because it is durable and long-lasting, it ages well and develops a patina over time, it is water-resistant, and it can be easily cleaned and maintained. Additionally, leather is a classic and stylish material that can add a touch of elegance to a messenger bag. It can also be more expensive than other materials, but it is often worth the investment due to its durability and longevity. Here are 6 facts about mens leather messenger bags:
Men's leather messenger bags are a popular style of bag that are often used for work or school.
They typically feature a long adjustable strap that can be worn across the body.
The bags are often made from high-quality leather, which gives them a stylish and professional look.
Many leather messenger bags for men have multiple compartments and pockets for organization and storage.
They can be used to store laptops, books, documents, and other work or school-related items.
Leather messenger bags can be expensive, but they are durable and can last for many years if properly cared for.
Benefits of Sustainable Leather Bags at Kaizer
Environmentally friendly: Sustainable leather bags are made from eco-friendly materials and production methods, reducing the environmental impact of the leather industry.
Ethical production: These types of bags are often produced using ethical labor practices, ensuring that workers are treated fairly and paid a living wage.
Lower carbon footprint: Sustainable leather is often produced using methods that have a lower carbon footprint, such as vegetable tanning or using sustainable sourcing.
Durable: Sustainable leather is often just as durable as traditional leather, making it a long-lasting and practical choice.
Support of local communities: Sustainable leather often supports the local communities and economies where it is produced.
Transparency: Sustainable leather manufacturers are often more transparent in their production methods, allowing consumers to make informed decisions about their purchases.
Animal welfare: It is often produced without causing harm to animals and by using by-products of the food industry.
Let's Explore Some Leather Messenger Bags From Kaizer
City Unisex Business Bag
This bag has a more sporty look which is ideal for those looking for a lesser solemn look. This bag is unisex which means anyone can use this bag for everyday uses. This bag gives the owner of it the luxury of a handcrafted piece. It has zippered central divider pockets and 2 main compartments. There is a card slot on the front and 1 large and 2 Medium-sized document pockets. You can easily fit all the necessary belongings in this bag with peace of mind. It is also great for traveling as it is big and sturdy enough to fit clothes or other pieces you need while traveling.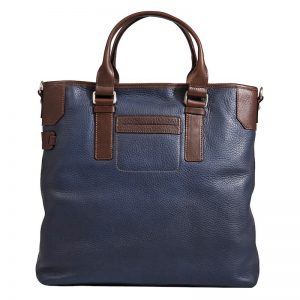 Statesman Messenger Bag
This bag is a high-end leather good that will accompany you anywhere, whether it is for traveling, business meetings, work, or school. It is handcrafted with patina leather material which is a type of leather that has been treated with a mixture of oils, dyes, and pigments to create a unique and rich look. Statesman Messenger Bag is made by skilled artisans using traditional techniques with high-quality materials. It is not only great because it is made with handcraft rather than machine-made but it is also higher quality and more durable.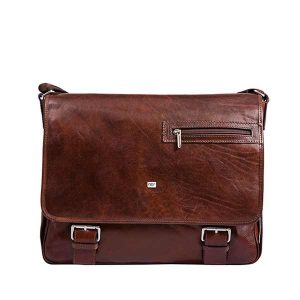 Statesman Business Document Bag
This bag has a classic yet smoothest finish to the touch. The patina leather used for its crafting material gives this bag its unique and characteristic look. This bag's features that make it highly functional for business occasions are like this: Double handles, double gusset, a large zipper pocket on the inside, and 2 mid-size receipt pockets. It has a storage kit with provision for cell phone, 3 credit card slots, and 2 mid-sized receipt pockets. You can fit any essential business documents or belongings easily into this bag.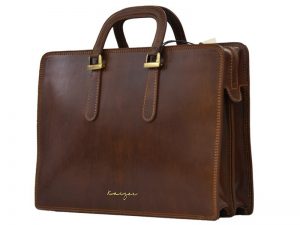 You can learn and explore more about our high-quality leather Messenger bags at our Dubai store or at www.kaizerleather.com