Trendy Today, Timeless Tomorrow: A Guide to Fashion's Ever-Changing Landscape
Fashion trends emerge from a variety of factors, including the creative visions of designers, cultural influences, and societal transformations. They begin as unique ideas shown on fashion week runways or showcased by famous designers.
Knowing about current and upcoming trends allows fashion enthusiasts to make educated decisions regarding their unique style.
Keeping up with the newest trends can be accomplished through a variety of methods such as fashion publications, blogs, social media platforms, and trend-predicting resources. Those with this knowledge can experiment with new styles, add trend-focused pieces to their wardrobe, and create fashion-forward outfits.
Developing Your Style Identity
Discovering Your Personal Style Preferences and Aesthetic
Self-discovery is the first stage in building your style identity. Take the time to investigate many fashion inspirations, experiment with various outfits, and analyze what speaks to you. Take into account your lifestyle, personality, and the image you wish to create. Are you drawn to minimalism, bohemian chic, or urban streetwear? Pay attention to the colors, patterns, silhouettes, and fabrics that you like.
Incorporating Trends That Align With Your Style to Create a Cohesive and Authentic Look
Once you've honed your particular style, it's time to embrace trends that compliment and enhance it. Trends can provide inspiration and new components to help you change your design. However, not every trend will suit your personal style. Choose trends that complement your aesthetic and that you actually appreciate.
Emphasizing Individuality and Self-expression in The Face of Fast-Changing Trends
Individuality and self-expression are critical in a world of rapidly changing trends. While following trends can be thrilling, it's important to remember that personal style extends beyond passing fads. Celebrate your originality by allowing your clothes to reflect it. Layer textures and patterns, and integrate sentimental or older artifacts that have personal importance.
Selective Trend Adoption: Separating Fads from Timeless Pieces
Differentiating Between Short-Lived Fads and Trends With Longevity
The key to selective trend adoption is discriminating between fads and long-lasting trends. Fads are frequently distinguished by their transient popularity and may dissipate as quickly as they emerge. Trends, on the other hand, have a broader impact and a longer lifespan.
Look for patterns and motifs that repeat across fashion seasons and are embraced by both designers and influencers.
Investing in Timeless Pieces That Can Be Styled in Various Ways
Focus on investing in timeless pieces that offer adaptability to develop a wardrobe that lasts beyond passing trends. Choose accessories easily compliment a variety of ensembles and can be worn in a variety of ways, making them great investments.
Look for high-quality materials and timeless designs that will outlast seasonal trends and remain relevant for years to come.
Man Shoulder Bags: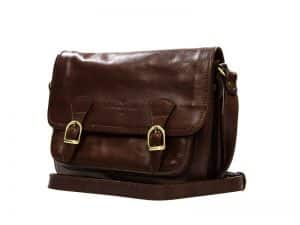 Man shoulder bags are a must-have accessory that flawlessly blends style and usefulness. These purses are versatile because they may be worn with both casual and formal outfits. Choose a classic leather design in neutral tones like black, brown, or navy to suit a variety of outfits. Shoulder bags for men give functionality without sacrificing style, with several compartments and adequate space. A well-chosen man shoulder bag gives a touch of sophistication to any ensemble, whether you're heading to the office, traveling on a weekend trip, or attending a social function.
Leather Handbags for Women:

Women's leather handbags are timeless assets that ooze elegance and durability. Select a well-made leather handbag that matches your unique style. Leather handbags come in a variety of sizes and styles to suit different events, ranging from sleek and minimalist designs to structured and sophisticated shapes.
Balancing Trendy Pieces With Classic Staples For a Versatile and Enduring Wardrobe
A well-curated wardrobe strikes a blend of modern and timeless pieces. Classic essentials provide timeless elegance and adaptability as the core of your wardrobe. Consider tailored jackets, well-fitted trousers, white shirts, and tiny black dresses.
These basics serve as a foundation for incorporating trendier components. By combining fashionable pieces with traditional mainstays, you can achieve a perfect balance of timeless sophistication and contemporary flair, ensuring that your wardrobe remains relevant and versatile.