From Sunscreen to Power Banks: Top 5 Must-Pack Items for Your Vacation
Ah, vacation time! The excitement is palpable as you begin planning your dream getaway. From sandy beaches to adventurous hikes, you want to ensure that you have everything you need to make your vacation a memorable one. While it's easy to get carried away with packing unnecessary items, we've compiled a list of the top 5 must-pack items that will keep you well-prepared and stress-free throughout your vacation.
Sunscreen – The Holy Grail of Vacation Essentials:
Whether you're lounging on a tropical beach or exploring a charming city, sunscreen is your best friend. Don't let sunburn ruin your trip! Pack a broad-spectrum sunscreen with a high SPF to protect your skin from harmful UV rays. Remember, sunburn is not a souvenir you want to bring back from your vacation!
Power Banks – Keep Your Devices Charged and Ready:
In this digital age, staying connected is a priority for many travelers. From capturing breathtaking photos to navigating unfamiliar streets, your smartphone becomes your trusty companion. Packing a power bank ensures you won't be left high and dry when your battery runs low. It's a small investment that provides peace of mind and keeps you connected throughout your vacation.
Universal Adapter – Plug into the World:
The last thing you want is to be unable to charge your devices due to incompatible power outlets. A universal adapter comes to the rescue, allowing you to stay plugged in no matter where you are. Whether you're in Europe, Asia, or beyond, this small device will ensure your gadgets stay juiced up.
Portable First Aid Kit – Safety First:
Accidents can happen anywhere, even on vacation. Having a compact first aid kit with essentials like band-aids, antiseptic wipes, and pain relievers can save the day. It's always better to be safe than sorry, so make room for this little lifesaver in your suitcase.
Travel Insurance – Protect Yourself:
While it's not a tangible item, travel insurance is a vital component of a worry-free vacation. From trip cancellations to lost luggage, unexpected mishaps can quickly turn your dream trip into a nightmare. Invest in comprehensive travel insurance to safeguard yourself against any unforeseen circumstances. Just pack it in your leather wallet and you're good to go!
Extra: Take Leather Handbags That Will Suit Every Outfit With You
Now that you packed the most important 5 items, you can't forget to take leather handbags that will suit every outfit and elevate it no matter what you wear. Let's look at some of these fashionable bags that will be your vacation outfits' helper!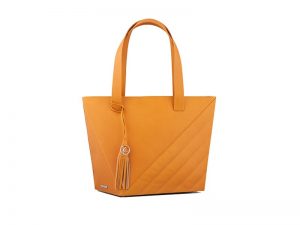 Luxurious Look and Feel: Rhetoric Handbag
The Rhetoric collection leather handbags are here to take your vacation fashion game to a whole new level. With their vibrant and fun designs, these handbags are perfect for the sunny vacations that will shine under the bright sun.
Crafted from full-grain saffiano textured Italian calf leather, these handbags boast a luxurious look and feel. The rich texture adds depth and sophistication, making them a standout accessory for any outfit. Whether you're strolling along a sandy beach or exploring a bustling city, these leather handbags are sure to turn heads.
For those who appreciate functionality as much as fashion, the Rhetoric collection offers special shopper leather handbags. With a top zipper closure featuring a leather puller, these bags ensure that your belongings stay secure during your travels. No need to worry about items falling out or getting lost. The zipper closure provides peace of mind while maintaining a sleek and streamlined look.

For Those Who Prefer The Convenience of a Backpack: Cosset Curved Backpack
Introducing the Cosset Backpack Curved – a compact, trendy, and functional backpack that is sure to become your go-to travel companion. Inspired by geometry, this backpack combines style and practicality for a truly exceptional accessory.
The outer look of the Cosset Backpack Curved features clean, straight lines that give it a modern and sleek appearance. Its minimalist design is perfect for those who appreciate simplicity and elegance. Whether you're exploring a vibrant city or embarking on a nature-filled adventure, this backpack will effortlessly complement your style.
So, if you're someone who prefers the convenience and comfort of a backpack, don't miss out on the Cosset Backpack. It's the perfect travel accessory that seamlessly combines fashion and practicality. Pack it for your next adventure and experience the joy of carrying a backpack that not only looks good but also meets all your travel needs.