Cruise in Style: Fashionable Outfits for Sailing Adventures
Are you ready to embark on an exciting sailing adventure? As the popularity of cruises grows, it's time to up your style game and embark on a nautical vacation in fashionable attire.
Essential Considerations for Sailing Outfits
Choosing breathable and lightweight fabrics
It's critical to choose fabrics that will keep you cool and comfy as you sail through the glistening waters. Choose lightweight materials that allow air to flow and wick away moisture, keeping you cool even in the hot sun. Cotton, linen, and chambray are wonderful alternatives since they provide breathability and a laidback atmosphere. Consider using natural fibers that are kind on your skin and help regulate your body temperature.
Opting for clothes with stretch or flexibility
Sailing involves a variety of responsibilities that require accessibility of movement, making it critical to wear clothing with stretch or flexibility. Look for costumes that will allow you to easily hop aboard, move around the deck, and participate in any exciting activities that come your way. Garments constructed of textiles such as elastane or spandex blends provide outstanding elasticity and flexibility, ensuring that you are not hampered by tight or inflexible clothing.
Considering weather conditions and temperature changes
Sailing experiences can involve unpredictable weather and temperature variations, demanding adaptive clothing. Consider the weather you'll face along the way when packing for your trip. Consider the normal weather patterns in the area and the time of year you'll be sailing. Lightweight layers are your best friend because they allow you to change your outfit as needed. Pack cardigans, jackets, or light sweaters that may be quickly added or removed to accommodate temperature changes. Scarves and shawls are versatile products that can be used as fashionable embellishments as well as extra warmth when needed.
Must-Have Accessories for Sailing Adventures
Non-slip boat shoes or deck shoes
When it comes to sailing, footwear is essential. Slip-resistant boat shoes or deck shoes are required for stability and traction on slippery surfaces. These specialty shoes have rubber bottoms that provide exceptional traction on wet decks, allowing you to maneuver confidently without fear of slipping. Boat shoes are not only utilitarian, but they also come in a variety of beautiful designs, allowing you to sail in both comfort and style.
Crossbody bags or backpacks for day trips
Exploring new places and taking thrilling beach excursions are frequently part of the sailing adventure. Cross bags for man or backpacks that allow you to move freely while keeping your possessions secure are ideal for keeping your basics close at reach. These adaptable bags distribute weight equally, allowing you to explore with your hands free. To protect your possessions from water splashes and ensure convenience throughout your day outings, look for alternatives with water-resistant fabrics, several compartments, and durable closures.
Sturdy and waterproof beach bags or totes
Sturdy and waterproof beach bags or tote leather bags are a must-have accessory when it's time to hit the beach or relax by the pool. These roomy backpacks are designed to protect your beach essentials like towels, sunscreen, sunglasses, and books from water and sand. Look for beach bags or totes made of long-lasting fabrics such as canvas or nylon, with reinforced stitching and waterproof linings. To add a touch of coastal elegance to your beach costume, choose bold colors or prints inspired by the sea.
The Absolute tote from the classic Absolute collection is the epitome of timeless style and functionality. Crafted with utmost attention to detail, this leather tote combines classic design elements with modern sensibilities, making it a perfect companion for your sailing adventures.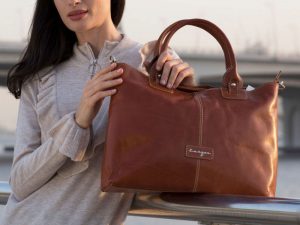 When it's time to hit the beach or relax by the pool, having enough room to pack your essentials is essential. The Absolute tote boasts a spacious interior that can accommodate everything you need for a day of sun-soaked fun. From your towels and sunscreen to your favorite beach reads, this tote has ample space to hold it all.
As you embark on your sailing adventure, you'll encounter various elements, including water and sand. The Absolute tote is designed to withstand these conditions with its durable leather construction and waterproof qualities.
Scarves or bandanas for added style and sun protection
Scarves and bandanas are flexible accessories that can add style and sun protection to your sailing clothes. To create a beautiful and nautical-inspired style, tie a colorful scarf around your neck or wear it as a headband. Scarves not only give a trendy touch, but they also provide sun protection and can be used as makeshift face covers against wind or spray. To ensure comfort in hotter climates, choose lightweight, breathable fabrics like cotton or silk.